Dear Friends,
It has been a challenging year for our world. The health crisis has continued for much longer than anticipated and associated labor and supply chain shortages have made construction progress more difficult. Yet, as 2021 draws to a close, we at Clark Construction find we have an unusually profound sense of gratitude this holiday season.
This year brought out the best in all of us and taught us a great deal about the sense of commonality and solidarity, and the willingness to contribute, that frequently emerges during difficult times. We completed key projects that advanced the cause of sustainability. We launched initiatives that we feel will benefit the places we call home. And we shared a sense of collective achievement with our clients and trade partners.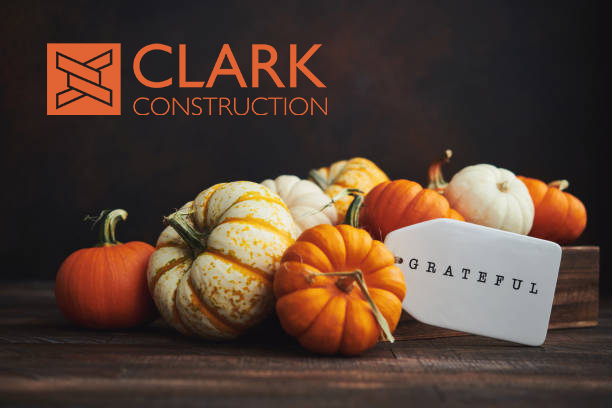 A good definition of success is meaningful growth. For us, that meaning is founded in a commitment to our people, our community, our environment, and to building exceptional spaces.  Inside the company, we ​​continue to grow a strong and resilient team. This year we became an incorporated entity in order to dramatically expand our ownership opportunities, giving 40% of our employees a true stake in the company's success.
In other news, our founder and CEO, Rachele Turnbull, was inducted into Oregon State's Academy of Distinguished Engineers, honored for her outstanding and sustained contributions to her profession. Finally, Clark took home the Best of Bainbridge Award for Best Contractor of 2021.
So, we have a great deal for which to be proud as 2021 concludes and many reasons to give thanks. Here are a few highlights of this year's work at Clark Construction:
Significant Clark projects launched in 2021 include Port Townsend's 7th Haven, a 43-unit affordable housing complex. A collaboration with Olympic Community Action Programs (OlyCAP), the complex intends to house 130 people, including 35-40 children from low and very low-income brackets. We also broke ground on Rivulet, a 78-unit apartment complex next to Clear Creek in Silverdale, and completed a diverse series of custom residences in the area.
Additionally, we'd like to offer a thank you to the Bainbridge community for its continued support. To enrich this community, we founded an initiative in 2021 to bring young people into the trades and inspire the next generation of craftspeople. Part of that initiative includes an annual scholarship fund and our summer internship program.  Some of the organizations Clark has been proud to support this year include Housing Resources Bainbridge, Island Volunteer Caregivers, Bainbridge Parks Foundation, The International Living Future Institute, Bainbridge Island Youth Services, Bainbridge Schools Foundation, IslandWood, Helpline House, Rotary, Erase Racism, and Friends of the Farm.
As we move into this holiday season, we at Clark Construction are profoundly grateful to our communities and our many clients and trade-partners. Like all challenges, those we navigated this year, with your help, led to a profoundly satisfying sense of collective achievement.  We look forward to the year to come… as we undertake new ecologically relevant, eminently livable, and visually engaging construction projects with the care and refinement that have become so closely associated with Clark Construction.
Happy Thanksgiving from the entire team here at Clark Construction.