A tiny house is no less a home, and Clark Construction is helping Bainbridge High School students build two for people needing shelter.
Students from the BHS Advanced Wood Technology & Construction and Advanced Architecture classes took on the project in partnership with the Low Income Housing Institute (LIHI). The classes are taught by Preston Michaels – CTE, Skilled & Technical Sciences.
BHS Alumni at Team Clark heard about the effort and are volunteering their time over 4 weeks to help guide the students in swinging a hammer as they frame walls and install roofing, among other things, for these 96 sf homes.
"It was so fun to be able to pop back into one of Mr Michaels classes for an afternoon and help on such a worthy project" shares Willie Hepler of Clark Construction.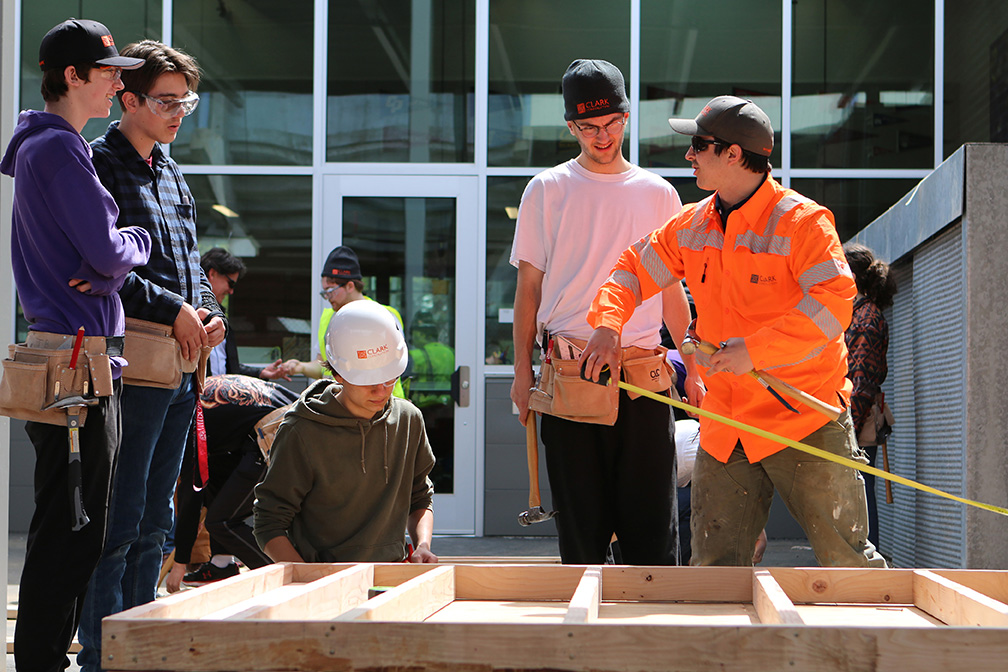 Once completed, the tiny houses will be trucked to Seattle to a tiny home village to house individuals without homes.
The Low Income Housing Institute develops, owns and operates housing for the benefit of low-income, homeless and formerly homeless people in Washington state. LIHI says Tiny House Villages are the most effective form of homeless shelter in the region.
"I have been dreaming about doing a project like this with my students that gives back to our community for years now, and I am so excited it has finally come to fruition.  Big, thanks to the Bainbridge School District for endorsing this and to all the volunteers and students involved." – Preston Michaels
Find out more about the Low Income Housing Institute at LIHI.org.
Read this article about the BHS Tiny House project published in the Kitsap Sun.
Read this article published in the Bainbridge Review.