Promotion announced by Clark founder Rachele Turnbull, who assumes CEO role 
Jeff Krueger of Bainbridge Island has been named President of Bainbridge-based Clark Construction, LLC. The move was announced by Rachele Turnbull, Clark founder, who has served as President and CEO and will now assume the sole role of company CEO.
Krueger joined Clark Construction in 2013 and has been serving as Vice President, a key member of Clark's executive and leadership team. In the role of President, he will oversee all day-to-day construction operations and project teams.
"Jeff's passion, vision and deep commitment to the company makes him a perfect fit to lead our people and projects," Turnbull said. "We are thrilled that someone with such a deep history and knowledge of the company will serve as President. Jeff is a strong, dynamic and values-driven leader with a track record of delivering consistent, high-quality service to our clients."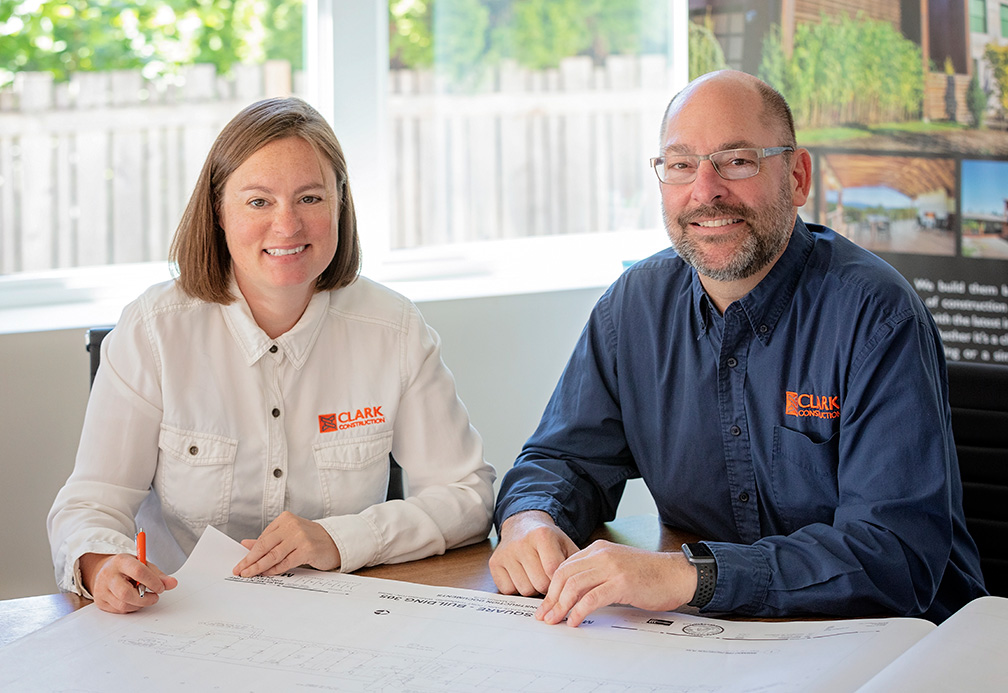 Krueger began his construction career as a summer laborer for Fairbank Construction Co. while in high school in the early 1980s. He continued this summer work while earning B.A. in Elementary Education and spending six years as a grade school teacher. Moving to Fairbank full time, he served for 10 years as Project Manager, Safety Officer and Manpower Manager on projects ranging from $15,000 decks to a $5 million condominium.
After spending seven years in Kenya with his family, building and managing a 130-acre dairy farm and orphan outreach center, Krueger returned to Bainbridge Island and joined Clark Construction. He and his wife have raised two daughters on the island and are deeply committed to the Bainbridge community.
"I am honored to take on this position as President and lead the Clark team into the future," Krueger said. "Clark is committed to efficient, sustainable building technologies and techniques, and we remain passionately dedicated to putting customer service first, regardless of the size of a project."
Rachele Turnbull's visionary spirit and strong leadership have guided Clark Construction to success for over a decade. As CEO, she will focus on corporate development and taking the company through the next stages of growth. To better serve clients and team, she will concentrate on resource management and communication systems, conduct cost estimating and analysis, constructability and design review.